The SASA Celebrates Over 50 Years
---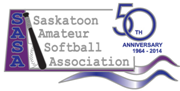 The Saskatoon Amateur Softball Association hosted it's 50th Anniversary celebrations, Saturday August 2 and Sunday August 3, 2014. The SASA has produced 21 national champions including 12 since the year 2000. It is the only association whose teams have won the Senior A Men's and Women's National Softball Championship in the same year, 1969. It is also the only association to produce 4 National champions in one season: 2008 Midget Boys, Sr. Men's, Jr Women's and National Collegiate champions. At the end of this season Saskatoon will have hosted over 30 different national or international events including three ISF World Championships.
Famous softball names span each of the 5 decades of SASA history including players like Peter Zacharias, Eddie Swiderski, Shelia Rowan and Vera Pezer from the 1960s. The '70s featured the likes of Gene McWillie, Rob Guenter, Ann Tkachuck, and Joan Duprey. In the '80s, local fans had the chance to watch players like Rob Scheller, Jay Sim, Pat Wegner and Irene Wallace come into prominence. The 90's produced stars like Olympian Jacki Nichol as well as Team Canada players such as Terry Wallin and Dale Dirks. The 21st century kept up the tradition producing players like national teamers Dean Holoien and Keith Mackintosh, Olympians Dione Meier and Erin Cumpstone as well as national teamer, Heather Ebert. Recently we have our newest local member of the Women's National Team, Megan Gurski and the newest members of the Men's National Team Devon McCullough and Patrick Burns
Check us out on Facebook at https://www.facebook.com/SASA-50th-Anniversary-807326745947497/
Read articles about the SASA and many of it's most interesting players, umpires, coaches and teams.
Click on each to download a PDF.
Two Local Women have a hand in World's Bronze - Erin Cumpstone and Heather Ebert
Hall of Famers - Dave Moore, Noreen Murphy, Jaki Nichol page 2
Second Home for Devon McCullough
Saskatoon Masters more than 25 years of Success
SASA History of Hosting major events
SASA winners at Nationals, Westerns and Collegiate Nationals
Doug Schultz - 50 years as an Umpire
A Brief History of Saskatoon's Softball Umpires
Trevor Ethier - Success at Home
Erin Cumpstone - A Natural leader
Dione Meier - Her Olympic moment
2013 Scotia Bank Selects win Nationals
First-ever U14 Boy's Championship
History of the Boy's Selects program
2015 Men's Worlds - Greatest win on Canadian soil
Devon McCullough - The Local Boy
Keith MacKintosh - Around the world and back
Travis Dauvin, Derek Arsenie and Devon McCullough - 3 Stars for Team Canada
Four Key Builders Of Softball In Saskatoon: Bob Van Impe, Vern "Glenn" Reeve, Bryan Kosteroski and Keith Mclean
3 local Guys at 2009 Men's' Worlds - Dean Holoien, Keith MacKintosh and Trevor Ethier
Fast Pitch Softball What a Game
Doug Schultz - Umpire, 50 years wearing Blue
Saskatoon Senior Women's' softball. A history of success from the 1969 Imperials onward.
Saskatoon Outlaws a local Women's softball success story
SASA Fifty Plus Years of Outstanding Facilities
Bob Van Impe - An Amazing Softball Builder
Patrick Burns and Devon McCullough - Different Paths to Success.
SASA and Saskatoon- A Rich History of Hosting
Gordie Howe Fastball Field renamed to honour Joe Gallagher
Don Bates - A Long Way From Retirement
Eugene McWillie - The Greatest Men's Player to come out of Saskatoon
August 1980 - A Month to Remember
The Summer of 69 - Saskatoon Tops the Softball World
SASA's Three Olympians - Jacki Nichol, Erin Cumpstone and Dione Meier